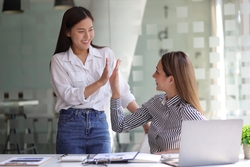 ILSPA would like to congratulate the winners of the British Conveyancing Awards, who were celebrated at a glamorous event in London last week. The awards recognise the very best of the Conveyancing industry, which may inspire those of you who currently work in Conveyancing departments or are interested in going into Conveyancing after your studies. The event was held by Today's Media which publishes Today's Conveyancer, the home of news, updates and trends relating to the Conveyancing industry. The Conveyancing sector has certainly experienced some unusual and turbulent times over the past few years due to the pandemic and its aftermath, however there have also been some great achievements to acknowledge.
Some of this year's winners include:
Boutique Conveyancing Firm of the Year - BP Legal Solicitors
Residential Conveyancing Team of the Year - Shoosmiths
Customer Service Champions - Birketts
Best Place to Work - Shoosmiths
Conveyancing Firm of the Year (National) - Shoosmiths
Shoosmiths did very well and are worth noting if you are looking to have a career as a Legal Secretary, especially as they won the best place to work category! Through their strong company culture, unique values and ethos, Shoosmiths have created an environment which is non-hierarchical and encourages mutual support. With offices in major cities around the country such as London, Birmingham and Manchester, they provide an outstanding service in many legal areas. Shoosmiths are one of the many law firms which invite speculative applications from people who are interested in working for them, as mentioned in a previous blog post. You can find more information about having a career with Shoosmiths here.