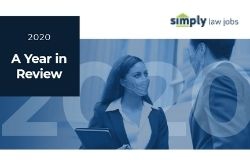 Our partner, Simply Law Jobs, has released its Year in Review for 2020.
The review provides a comprehensive overview of the impact of Covid-19 on the industry, specifically how it affected employment within the sector.
The legal industry faced one of its biggest challenges when a global pandemic forced the UK into a national lockdown in March 2020. The unprecedented amount of disruption shook up a seemingly calm legal recruitment marketplace.
The monthly average number of jobs posted to Simply Law Jobs in 2020 was 5,328, a 60% decrease from 2019.
Key findings reveal how 65% of professionals were …