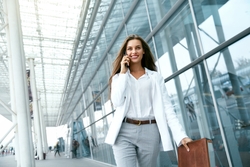 If you are currently looking for a Legal Secretary job, it is useful to know that certain law firms have careers or recruitment sections on their websites where they advertise vacancies. However, not all vacancies are advertised, so it can be very beneficial to contact law firms directly.
Website Applications
Many law firms invite speculative applications from candidates who think that they have something to offer the company. Their websites will give you the option to submit your CV without applying for a specific position. Examples of these firms are Birketts, Norton Rose Fulbright and Michelmores.
Email/Postal Applications
It is also possible to make speculative applications through the post or by email, sending your CV together with a covering letter. Always ensure that you tailor your letter for each position and firm to display your understanding and interest in working for them. You can find law firms in your area by doing a search on the Internet. You will be able to find the relevant contact information, including postal and email addresses, on their websites.
Being ahead of the game
Studying a Legal Secretary course with ILSPA provides you with the legal knowledge and practical skills you need to be a competent Legal Secretary. The next stage of your journey is securing employment and our Members often find that applying to law firms directly is an effective way of being invited for interviews. It not only demonstrates a pro-active and confident approach to finding work, but it also puts you ahead of the game!