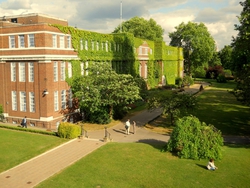 Our next evening class is starting on Wednesday 6 September and is taking place at Regent's University in London. ILSPA has run our Legal Secretaries Diploma course at the University for over a decade. It is a wonderful place to study, amongst the beautiful surroundings of Regent's Park.
The course is being taught by Seamus Ryan who is very popular with our Students due to his helpful and friendly approach. Seamus is a qualified Solicitor and has a passion for teaching law. His enthusiasm shines through in his classes and our Students provide fantastic feedback about their experience with him, like Fiona Lamb from London who said:
'Highly recommend this course. I have had no previous legal knowledge or training, but have found it invaluable - giving me insight into legal terminology, legal proceedings, procedures and forms, all necessary in my future role as a Legal Secretary. I feel confident in fulfilling this role and look forward to my new career. Enormous thanks to my Tutor, Seamus, for his professionalism, easily understandable and witty insight into the legal world. Thoroughly enjoyed the class.'
If you are interested in enrolling on our Legal Secretaries Diploma course, book now to secure a place.