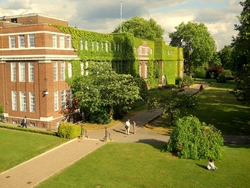 ILSPA's next Legal Secretaries Diploma evening class is starting at the end of the month on Tuesday 29 January. As usual it is being held at Regent's University in Regent's Park, London. The class will be taking place one evening per week for fourteen weeks from 6.30pm - 9.30pm.
Regent's University is situated just inside the entrance to the park and it is well lit up at night. As the days get lighter, Students will be able to benefit from the beautiful surroundings. There is a lovely view of the river from York bridge where Students cross over on the way to the University.
Seamus Ryan will be teaching our evening class. He has been an ILSPA tutor for over 10 years and is very popular with our Students! We were delighted to receive this recent feedback from one of our Students, Berlind Fellermeier:
'Seamus is an amazing teacher - he can be a complete laugh and is also very approachable. He manages to make the classes relevant to everyday life and has so many stories from his experience as a solicitor. When my friends asked how my classes were going, and I told them they were entertaining, I always get surprised looks as no one expects law to be humorous, but there you go. With Seamus you can't help having a good time.'
To find out more about our evening class, take a look at the article we published in this month's Legal Secretary Journal here.