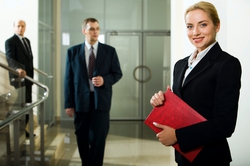 If you are currently looking for a Legal Secretary job, there are many avenues you can go down to secure employment. You may just be starting out in your Legal Secretary career or be an experienced Legal Secretary who wants to achieve a higher salary.
ILSPA's Legal Secretary Jobs Board holds a wealth of positions for trainee and experienced Legal Secretaries from law firms, recruitment agencies and other jobs boards such as Simply Law Jobs, Totally Legal and Secs in the City. Our jobs board is a hub for Legal Secretary vacancies in London and throughout the UK.
Apart from applying for Legal Secretary positions online, you can also visit recruitment agencies and register with them. If you live in London, many agencies recognise ILSPA's Members and Graduates such as Career Legal, Owen Reed and Ambition.
Another great way to secure employment is to send speculative applications to law firms. We shall be including an article on speculative applications in the December edition of our Legal Secretary Journal, so keep an eye out for that!