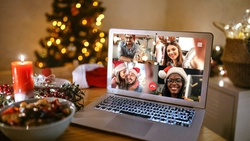 December is normally a time for Christmas parties and office get togethers. Festive gatherings may not be possible this year, but you can still celebrate with your team and toast the end of 2020 in style.
Here are our top tips for a fantastic virtual Christmas party!
1. Don't be afraid to keep the numbers small
Don't be afraid to organise smaller parties for each department or team. We all know what it is like being on a Zoom meeting with a large number of attendees. It's hard to interact or feel included. Keeping numbers smaller ensures a comfortable and inclusive atmosphere.
2. Make …