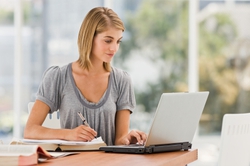 There are many benefits of becoming a VA. One of the main benefits is being your own boss. Imagine being able to dictate your own workload and timetable, as well as have a better work/life balance!
If you are a competent Legal Secretary or PA, this is a career option you could seriously consider. Maybe you have a young child who you would like to spend more time with at home, or maybe you have had enough of working within an office environment. There are many resources out there which can help you achieve your goal and understand the ins and outs of being a Virtual Assistant.
We recommend visiting Catherine Gladwyn's website here. You can also find her on Twitter. Catherine started her own Virtual PA business after having the confidence of over 20 years of PA, Senior Admin and Secretarial experience behind her. She provides some great advice on becoming a Virtual Assistant.
One of our Fellowship Members, Sharon Dyer, has also set up her own Virtual Assistant company. She is an experienced Legal Secretary who has worked for firms like DLA Piper and Anthony Collins. When Sharon became a Mum and was subsequently made redundant, she decided to start her own business so that she could enjoy the benefits of working from home. You can read more about Sharon here.
Further information on becoming a Virtual Assistant can be found in our Legal Secretary Journal. Just perform a search for 'Virtual Assistant' and a range of helpful articles will be available to you.