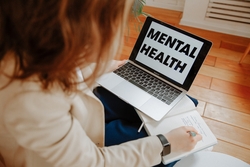 Today is world mental health day, where many organisations will have the opportunity to raise awareness about mental health issues, as well as help those who are suffering with them. One in eight people suffer from mental health conditions and it can significantly affect their lives, from not being able to make meaningful connections with others to not functioning well enough to work.
This year's theme is about mental health being a universal human right. This means that whoever we are and wherever we live in the world, we should have the right to a good standard of mental health. Governments are working towards providing preventative measures, giving people access to care and making sure they are supported in the community, however there are still people who are excluded from communities and discriminated against. We have made a lot of progress in terms of how freely people can talk about their mental health compared to times past, and we are learning a lot about the different factors which can affect us, however some stigma still remains.
If you are suffering from feelings like anxiety or depression, there are many helpful online resources from organisations such as Action for Happiness available. They have created a free online programme called '10 Days of Happiness' which can boost your wellbeing through small daily actions. You can record how you feel each day, how the actions may or may not help you and find ways to take the ones that work forward into your everyday life. Action for Happiness was set up to create a happier and kinder world where everyone can thrive.
For those of you currently working in the legal field, try and be open and honest with your colleagues and boss if you are struggling with your mental health so that understanding can be established, and allowances can potentially be made. It really helps to get support from those around us. An organisation called LawCare has been specifically set up for the legal community. They provide free, confidential and emotional support to anyone working in law. You can also get information on various mental health issues and receive well-being tips through their website.
Please do not suffer in silence and reach out to those who can help!