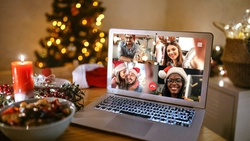 December is normally a time for Christmas parties and office get togethers. Festive gatherings may not be possible this year, but you can still celebrate with your team and toast the end of 2020 in style.
Here are our top tips for a fantastic virtual Christmas party!
1. Don't be afraid to keep the numbers small
Don't be afraid to organise smaller parties for each department or team. We all know what it is like being on a Zoom meeting with a large number of attendees. It's hard to interact or feel included. Keeping numbers smaller ensures a comfortable and inclusive atmosphere.
2. Make it an activity
Arrange something for everyone to do together. It will set the party tone and ensure that everyone is entertained. It could be a home gin tasting, a virtual cocktail class or even a DIY restaurant kit. There are plenty of options available that can be delivered to each attendee beforehand ready for the night. If you would rather create your own activity, why not try a quiz or an award ceremony for the team.
3. Make an effort
Treat this as a chance to get dressed up and feel special for the evening. You may be in your living room but you don't need to be in your pajamas (unless of course pajama party is the theme).
4. Remember to remain professional
By all means let your hair down and enjoy your virtual party, but still remember who you are partying with. It's easy to forget sometimes when you are in the comfort of your own home that this is a work event. So don't drink too much, be professional and be polite.
We hope you all have a very Merry Christmas!