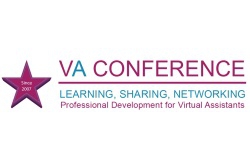 The PA Show 2019 (formerly Office* Show) will once again play host to the UK VA Conference. The show will take place at the Olympia exhibition centre in London on 'VA Day' - 27th February 2019. The UK VA Conference 2019 has compiled a fantastic agenda that will appeal to a whole range of Virtual Assistants and their skill levels – from start-up newcomers to established and successful Virtual Assistants. The conference will include talks, expert panels and of course multiple opportunities to network with fellow VAs.
For the seventh year, VA Day will be kick-started by the popular free breakfast session starting at 8:30am. This year's session will include a discussion with the #MyVACareer Panel, led by business thought leader Lina Bourdon, Chair of the Federation of Small Business (FSB) Board for Diversity Policy, champion of 'Women in Enterprise' initiatives. The Panel itself will comprise of Amanda Johnson - multi-award winning VA and VA Trainer (VACT); Catherine Gladwyn (Delegate VA) Five-Star Amazon Bestselling Author, "How to be a Virtual Assistant" and Felicity Webb (The Virtual Assistant UK) - multi-award winning VA including South East England VA of the Year 2018.
To attend the UK VA Conference, first register as a visitor for The PA Show 2019 and then as a registered visitor, please select the sessions you wish to attend or save with a "full day pass".
ILSPA is a proud partner of the UK VA Conference 2019.