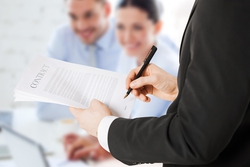 In this month's edition of our Legal Secretary Journal, we published an article which provides advice to new Legal Secretaries and PAs. We spoke to a range of experienced Legal Secretaries/PAs and gained some excellent insights. One of the most interesting questions we posed to them was 'What is your favourite thing about your role?' We received some great answers like:
'I really enjoy working directly with clients to help and guide them through the legal system and to give support and understanding where required. I also enjoy drafting work and performing research for upcoming projects/events.'
Karen Chirnside, Legal PA at Roche
'I enjoy working with my lawyer colleagues... It's a mixture of different types of work which you handle, it's an everyday challenge. For example, my litigation colleagues teach me how to talk or argue with an opponent; my other colleague who handles IP knows how to register trademarks or how to deal with copyright infringement. Law is a vast subject which can never be learned in a day or month; it will never get old.'
Madhavi Karale, Admin Assistant at Singhania & Co, Mumbai
If you would like to read the full article and get some useful advice, you can view it here.