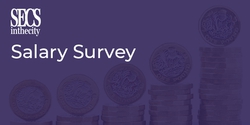 Has the pandemic continued to affect pay and employment opportunities? How have business support responsibilities and expectations evolved during the last 12 months?
To help answer these questions, SecsintheCity, the UK's only specialist job site for PAs, EAs, and business support professionals, are asking business support professionals from every experience level to complete their confidential survey.
The survey will explore salary shifts and working experiences from the last year, in addition to other key themes from previous SecsintheCity audience surveys. The salary information we collect will allow you to see where you stand in comparison with your peers. The findings can help you understand whether you are being paid fairly and can be used as a tool to ensure you are being compensated at the right level, compared with the industry average.
With your help, SecsintheCity can shine a spotlight on the issues that might be affecting the industry and the problems that business support professionals are experiencing every day.
Contribute to the 2022 SecsintheCity Audience Insight Report, please click here.