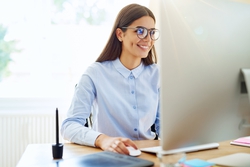 Now is the perfect time to take the plunge and enrol on our Legal Secretaries Diploma course via distance learning. For the month of August, Students who enrol for our online Legal Secretaries Diploma course will receive £100 off their course fee, making the course just £500!
Our Legal Secretary course is widely recognised by law firms and legal recruiters, and will provide you with valuable legal knowledge and the practical skills you need to become a competent and qualified Legal Secretary. You will learn various areas of law and the practical tasks involved with Legal Secretary work, such as legal document production, completing legal forms and typing professional correspondence, all from the comfort of your own home.
The distance learning course can be studied at your own pace, providing you with great flexibility. As a guideline, the course is usually completed within 6 months, however you can take up to one year if you need to. The more time you dedicate to your studies, the sooner you will complete the course.
All the course material and resources you need are available online through our website. When you enrol, you will be able to log in and access everything straight away. Even though you will be studying from home, you will have dedicated help and support during the course. If you have any questions about the course material or coursework, you can contact your Course Assessor or telephone us to speak to a member of our team.
For more information and to enrol please visit our course page or call us on 020 7100 9210.