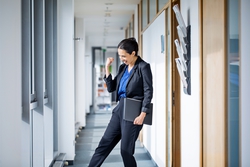 ILSPA's Partner, Simply Law, is offering free webinars to help you secure employment and improve your career prospects. The next webinars are taking place on Tuesday 5 September and will focus on how you can create a high impact LinkedIn profile to attract top legal jobs.
If you are looking for Legal Secretary work at the moment or you are studying one of ILSPA's courses and want to improve your chances of employment after you qualify, it is well worth listening to Simply Law's expert advice. The webinars will cover:
How to write your LinkedIn profile to get noticed
How to get your CV and LinkedIn profile working together
How to create an attention-grabbing Headline and About section
What you should and shouldn't put in the Experience / Positions section
How to sell yourself and network to decision makers
An intro into the dark art of thought leadership
How to use projects and case studies for maximum impact
You can register for one of Simply Law's webinars here:
Tuesday 5th September @ 12.00pm: https://hubs.li/Q01_XBZ30
Tuesday 5th September @ 7:15pm: https://hubs.li/Q01_XJFN0
Our partnership with Simply Law ensures that those looking for work have access to a wide range of Legal Secretary jobs and career resources. Simply Law is the UK's leading jobs board for the legal industry and free webinars are regularly available. You can take a look at Simply Law's Facebook page here for more information.