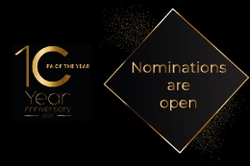 Deserving PA of the Year Awards winners don't necessarily need a boss or colleague to make a nomination on their behalf. With the nomination deadline fast approaching, here's why you should put yourself forward this year.
The nomination deadline for the tenth anniversary of the PA of the Year Awards - September 10 2021 - is now less than a month away, so if you've been thinking about submitting a nomination for yourself, now is the time to do it.
At SecsintheCity, we strongly believe in the importance of knowing your self-worth and celebrating your own achievements and talents, which is why we want to encourage you to nominate yourself for a PA of the Year Award in 2021.
Still need convincing? Don't just take our word for it. Over the years, many of our winners and finalists have been those who took the plunge and nominated themselves.
Bethany Burns, PA at BrewDog and the winner of the PA of the Year award in 2020, was just one of many talented Assistants who nominated themselves for last year's awards. We asked Bethany what advice she had for those of you toying with the idea of nominating yourselves for this year's Awards:
"Go for it! Know your value and put yourself out there. I think it is important to keep personally challenging yourself to evolve as an individual. I recommend you read interesting books (I read many of the books my boss reads), mix with brilliant people, take online courses (I'm just finishing a mini-MBA course!), do speaking events and above all, keep learning. Absorb the world around you."
Craig Harris, a previous Social Media PA of the Year winner who submitted his own nomination in 2018, offered some words of encouragement for the PAs, EAs and Office Managers out there who are worried about putting themselves through the PA of the Year interview: "If the interview process puts someone off being nominated - don't let it. Everyone that interviews you is lovely."
2018's PA of the Year Julia Tolkaciova echoed Craig's sentiments, describing the interview as a "really fun" experience which she approached with the intention of simply sharing her career background and passion for the role.
"The application took 10 minutes to complete with a few questions, nothing too in depth," says Kelly Gethin, a 2018 PA of the Year finalist. "You automatically think you need to be nominated for this award by someone, which is not the case at all. I had seen many previous EAs who had won the award had put themselves forward for the running, so that is exactly what I did. My advice to any PA or EA who wants to take a shot at this year's awards is 'go for it!'"
Meanwhile, the winner of 2016's Social Media PA of the Year Award Janice Parker notes the benefits of nominating yourself even if you don't end up winning:
"I would definitely recommend others to enter," says Janice. "What's the worst that can happen? It's good to enter even if you are not shortlisted as the application form reminds you of your achievements and shows how much you have contributed to both your organisation and external networks."
Sue Fletcher, winner of the Outstanding Achievement Award in 2016 says she saw an ad for the PA of the Year Awards and was inspired to put herself forward:
"I remember seeing an advertisement pop up on LinkedIn asking, 'Are you, or do you know a PA who deserves recognition?' and I thought 'Hell - yes I do!' I wrote my application there and then, didn't even keep a copy so I have no idea what I wrote. I forgot all about it until I received an email to say I had made the shortlist!"
So, what are you waiting for? Nominate yourself today for the PA of the Year, Legal PA of the Year or Office Manager of the Year award at the 2021 PA of the Year Awards!