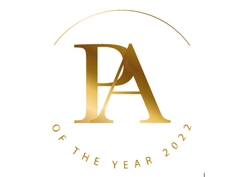 Winning the Legal PA of the Year Award is the ultimate recognition of your hard work, dedication, and achievements. If you are a Legal PA who goes above and beyond every day, PA of the Year want to hear from you.
Nominations are now open for the 2022 PA of the Year Awards, an annual celebration of the outstanding talent, skills, support, and achievements.
Susanna Tait, PA of the Year Awards judge and Chief Executive of event sponsor Tay Associates, highlights that the aim of the Awards "is to acknowledge the significant contributions that PAs and EAs make to the organisations they work for."
Why Nominate?
Winning a PA of the Year Award is the ultimate recognition of your hard work, dedication, and achievements as a business support professional.
Sarah EL-Doori, Marketing Director of SecsintheCity, says the awards are designed "to champion the profession. As the role continues to evolve, it's vital that PAs and EAs recognise the value they bring to their managers, teams, and organisations."
Breanna Worton, Legal PA at Freshfields Bruckhaus Deringer, and winner of the Legal PA of the Year Award in 2021, said "keep shining and doing the best you possibly can. Volunteer for tasks outside of your own role, help others and find individuals that inspire you, learn from them and pass that knowledge on. Write down your achievements as and when they happen and remember your hard work is appreciated."
In addition to an awards ceremony and the chance to win the ultimate career accolade, a range of fantastic prizes will be up for grabs for our winners.
How to Nominate:
To nominate yourself or a colleague, simply complete our nomination form here. If your nomination is successful you will be invited for an interview with this year's Judges, Sarah El-Doori from SecsintheCity, and Susanna Tait from Tay Associates.
PA of the Year Award nominations will close on Friday 2nd September, 2022, after which, our judging panel will interview a shortlist of finalists to select a winner in each of the following categories:
PA of the Year
Legal PA of the Year
Office Manager of the Year
Outstanding Achievement Award
Eleanor Lawson, Legal PA of the Year finalist, also said that "I thought the interview process for PA of the Year was very enjoyable. It didn't even feel like I was going for an interview! Susanna and Sarah made me feel so comfortable and it was so nice to be able to just sit and talk informally rather than feel under pressure."
Don't miss out on your opportunity to be crowned a winner at the 2022 PA of the Year Awards. Nominate yourself or a colleague today.
To find out more about the PA of the Year awards and what our judges are looking for in winning candidates, please visit our blog, or read our interview with last year's winner, Breanna Worton.
Article submitted by Totally Legal