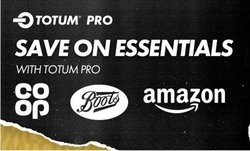 As ILSPA students are eligible for a TOTUM PRO card, we wanted to share some exciting new offers TOTUM have recently announced.
It's always good to have an update on the great brands available to TOTUM PRO members. TOTUM have been busy behind the scenes working hard for members. Why don't you take a peak…
All offers available to TOTUM PRO members can be found in the PRO category on TOTUM.COM. If the offer is new it will have a "NEW" banner and if it's exclusive it will have a an "EXCLUSIVE" banner. Please see https://www.totum.com/se/student-discount/cat/totum-pro
So here are the latest new offers ready now -
SIKSILK- 15% off
Shavekit- 80% off starter box with Shavekit
Virgin Media- Student store promos with Virgin Media
WWE Network- Free WWE streaming services on WWE Network
Gym King- £20 off order over £100 at Gym King
Hp- up to 35% off
Experian- Free credit check with Experian
Grenade- 30% off at Grenade
New Era Cap- 10% off at New Era Cap
Where tomorrow- 10% off
Urbanara- 10% off
Burts bees- 10% off
Douchebags- 10% off site-wide + free delivery

Upcoming offers
Smarty
Regis
Supercuts
Zaful

Don't forget, they have a fantastic offer on at the moment until the end of June -
TOTUM PRO Price Promotion
Members can buy a two-year membership card and they'll chuck in an extra year FOR FREE.
That means that you can buy a TOTUM PRO 3-year membership for just £24.99, that's a saving of a tenner over RRP. This promotion will run to the end of June.
There are no voucher codes involved, simply sign-in as usual and the new price is reflected on the website. The promotion has been active for a few days and we're seeing a strong uptake of the offer.
The small print: the discount is not available on the PASS-accredited proof of age ID bundle.
Brand Partners
Obviously with the current pandemic, where people are being told to stay at home, TOTUM PRO members have very different needs and wants. TOTUM are quickly responding to this change in circumstances and are onboarding new offers for products and services that use home delivery or the internet.
We have an Essentials category which includes lots of the offers that members are currently using – whether that's stocking up on home delivered beer at Beer52 or Flavourly, getting their SMOL washing capsules delivered direct to their door, 15% off Samsung tech or getting their 10% discount on a Co-op essentials shopping trip. There are still lots of great savings to be had with a TOTUM PRO membership.