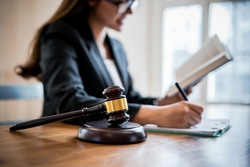 This week, we have been inspired by an article in the Law Society Gazette, highlighting Almudena Arpón de Mendívil - the first woman to hold the presidential position of the International Bar Association for 20 years. Almudena will be focusing on gender equality during her term and believes that we need to see more women in the highest positions of the legal sector.
Lubna Shuja is the the current President of the Law Society and Caroline Jepson was President of CILEx until 2022. The CEO of the National Association of Licensed Paralegals is now Jane Robson, who recently took over from our patron Amanda Hamilton. And of course, ILSPA's Chief Executive is Emma Stacey, who has been in charge of operations since 2004. Whilst women have a solid presence at the top of the membership organisations, the roles of Judges or Barristers are predominantly held by men. However, the female uptake for these professions is increasing year by year, with about a third of women now working in these positions. We are also seeing that many more women are qualifying to become Solicitors than men. Over 50% of practicing Solicitors are now women.
The Legal Secretary role has been predominantly held by women, although ILSPA has been welcoming more and more men over the years. We would like to encourage men to embark on this career path as it is a great way to get your foot in the door of the legal sector and work your way up the ladder. Many male law graduates study our Legal Secretaries Diploma course to gain the practical skills they need to work in the legal profession.
It will be to see more gender equality as time goes on in all areas of the legal sector.