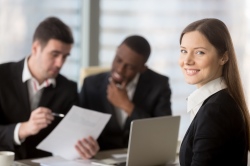 The September edition of DEDICATED - The Legal Secretary Journal is now available to read online.
The journal this month takes a look at the role of the Legal PA and the more senior role of the Paralegal. You can read TotallyLegal's interview with Paralegal Gemma Williams, who gives a fantastic insight into the role. Also, Chief Executive of Tay Associates and Judge of SecsintheCity's PA of the Year, Susanna Tait, talks about what she is looking for in candidates for the prestigious award in 2019. In you haven't got your nominations in you still have time. Just follow the link in the article.

If you are thinking about taking the next steps in your career and maybe moving into a higher position, then we have two fantastic articles from specialist recruiter Ambition for you. The first discuses what progression is available for those in business support roles and the second gives their advice on how best to prepare for a senior interview.

Finally, if you are a Legal Secretaries Diploma Student then you definitely will want to have a read of our Wills and Probate legal update from Tutor, Seamus Ryan, and our in depth look at study methods for visual learners.