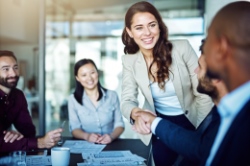 The October edition of DEDICATED - The Legal Secretary Journal is now available.
This month, our experienced Members have the chance to take part in an important survey run by our partner, Totally Legal. They are interested to know what your work involves and whether you are being paid the right amount. If you have time, please take a few minutes to complete this worthwhile survey.
We have been delighted to interview one of our graduates, Tracey Jenkins, who achieved a distinction for the Legal Secretaries Diploma course. Having obtained 99%, Tracey is one of our top Students and proves that with the right focus and attention to detail, you can succeed in your studies. She has no previous experience in the legal field which we hope will inspire those who are currently studying with us.
ILSPA's partner, Simply Law Jobs, has written an article about Legal Assistants. You can read about their duties and what skills are needed for the role. Legal Assistants perform very similar work to Legal Secretaries. They simply have a different job title. There is also a helpful article from Heat Recruitment, who regularly provide our Members with career advice. They explain why now is the best time to job hunt.
Our tutor, Seamus Ryan, has provided a useful update on Conveyancing Protocol and we also have the second part of our series on study methods, for audible learners.