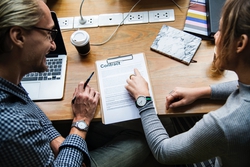 February's edition of our Legal Secretary Journal has been published and we have some great contributions this month.
Our lead article focuses on asking for help at work. Whatever stage we are at in our careers, it is important to feel like we can approach our colleagues or boss for assistance or clarification. This follows on from an article we published last month about asking for help as a Student.
Whether you are working as a Legal Secretary or PA, or you are currently studying to achieve your career goal, you can find some really helpful advice. Legal PA of the Year winner Amy Franklin and Jess Gardiner, the CEO of The Assistant Room, provide some guidance on how to perform well at work in various situations.
Simply Law Jobs have also provided some good tips on how to start a legal career in your 30's, 40's or even 50's. Changing career later on in life can seem daunting to some but rest assured that many people today are switching careers later on in life due to people working into their 60's.