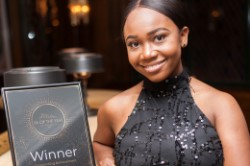 The December edition of our Legal Secretary Journal has just been published. This is the last publication for our journal for this year and we would like to thank our readership for keeping in touch with the Legal Secretary world. Similarly to our blog, our aim is to inform you about what's going on and to help you advance your career.
In this month's journal, you can read about Joyce Dadzie who won SecsintheCity's Outstanding PA of the Year Award. Joyce is a Legal PA at Axiom Law and loves her work. The SecsintheCity judges said that one of the reasons she won the award is because she redefined the EA role, taking on CSR work and leading outreach projects. Joyce is an absolute asset to her firm and we wish her all the best in her career.
You can also find great advice on how to improve your CV and send speculative applications to law firms in this month's journal. We have found that this is a very successful way for our Students to secure employment.