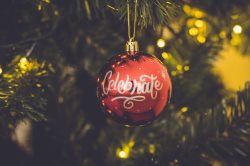 Please note that we will be closed for Christmas and the New Year from Wednesday 19 December until Wednesday 2 January. If you are a Student and would like help with your coursework, you will still be able to contact your Course Assessor by email during this period. For those of you who haven't contacted her before, you can find her details in the Help and Support section of your online course material.
We are really looking forward to celebrating the end of a great year at our Christmas party next week. It's a great chance for the staff to get together in an informal setting and eat some delicious food. Some of our team work in other parts of the country so we will have the pleasure of spending quality time with them in person. Our yearly tradition is to go to the Riverford Field Kitchen for a leisurely lunch. They are based near our head office and grow lovely organic produce.
If you have a Christmas party coming up soon, take a look at our article on 'The Do's and Don'ts of Office Christmas Parties' which was published in our Legal Secretary Journal this month. You can find some great advice on the etiquette required so that you can attend with confidence.