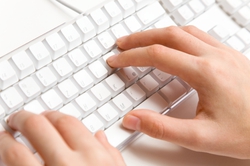 To work as a Legal Secretary, you need to have good typing skills. This means that you should be able to type at least 50 words per minute and have a high level of accuracy. Some firms will expect you to be able to type 60-80 words per minute but others may not feel that a fast typing speed is necessary. It all depends on the individual firm's needs and these will be set out in the job description when they advertise a vacancy.
We advise our Students to have a minimum typing speed of 50 wpm. If you would like to improve your typing skills, we highly recommend a free typing course which can be found at www.typing.com. Through this site, you can learn to touch type as well as improve your speed and accuracy.
There are some great training providers who offer touch typing courses such as Pitman Training. You can also find some good typing course providers though Reed.