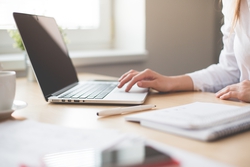 If you would like to improve your word processing skills, learn more about working with spreadsheets, become familiar with using Outlook or learn how to conduct a PowerPoint presentation, take a look at Prodigy Learning's self-start e-kits. They provide LearnKey Video Training for Microsoft Office Specialist (MOS) which is self-paced and flexible, with a personal instructor right on your desktop. LearnKey's course design and skilled instructors ensure candidates learn exactly what is needed to achieve certification.
Earning a MOS Certification can help you differentiate yourself in today's competitive job market. It helps broaden your employment opportunities by proving that you have advanced skills in Microsoft Office, which can result in higher earning potential. After gaining MOS Certification, you receive immediate access to a Digital Certificate and Transcript, as well as the MOS logo to put on your CV!
One of ILSPA's aims is to provide affordable training for Students and Members so we have teamed up with Prodigy Learning learning to provide you with a 25% discount on Microsoft Office courses for Office 2013 or Office 2016.
For more information and to enrol, please take a look at our course discounts page. Make sure that you are logged in as a Member when viewing this!