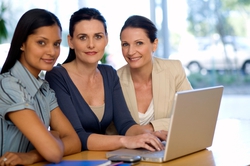 A common question we get asked at ILSPA is 'Is there an age restriction to study your Legal Secretaries Diploma course?'. The answer is that our course attracts a wide range of Students of all ages - from people who have recently left school to those in their late 50s. We love to see how varied our evening classes are in London and we enjoy speaking to Students of differing ages over the phone in relation to our distance learning course.
Sometimes we receive phone calls from people who have left school and are thinking about their future career. At the other end of the scale, we receive enquiries from mature men and women who are interested in changing their career later on in life.
To enrol on the course, we simply require our Students to have administrative or secretarial skills with a good typing speed, computer literacy, a good understanding of Microsoft Word, and a good standard of spoken and written English. These skills can be acquired through self-study, training or work experience.
Law firms can vary greatly as to what kind of candidates they are looking for to fill their Legal Secretary vacancies. Some firms will be looking for entry level Secretaries that they can train up, whilst others will be looking for mature and experienced Legal Secretaries who already know the ropes well. There is such a good variety of positions out there which are suitable for all.