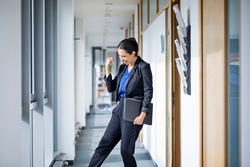 It is great to hear that there is a rise in women gaining positions at the top end of the legal profession. Many of the large law firms have implemented a gender target and are ensuring that a good percentage of women are promoted to partnership positions each year.
Travers Smith LLP is the latest firm to appoint a woman as a senior partner. Kathleen Russ will actually be their first ever female senior partner! Travers Smith was founded over two centuries ago so it shows how women really do need to start being recognised for their worth.
As time goes on and more awareness is being drawn to gender issues, women's capabilities are becoming more valued. ILSPA published an article called 'Attaining Equality in the Legal Profession' earlier on in the year, which talks about women in law. Legal Secretaries are predominantly female, although we have not seen enough women progressing to partnership or judicial roles. Thankfully, there has been a lot of media attention about gender equality this year which is gradually making a difference.
Outside of the legal profession, women made history in the American mid-term elections this month. A record number of women won seats in the House of Representatives, including Native Americans and a Somalian refugee. Things are definitely on the up for women across the world, so if you want to aim high, go for it!