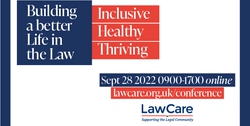 Learn more about how to improve the culture in the law and how to make your legal organisation a happy and healthy place to work
Legal mental health charity LawCare has announced the full line up of speakers for its online conference 'Building a Better Life in the Law' which takes place on Wednesday 28th September.
The conference will feature leaders across the profession who are pioneering new ways of working. They will share their experiences of improving the culture in law through an interactive programme of plenaries, panel discussions, workshops and breakout sessions. There are three tracks; Starting out – addressing the particular needs of junior lawyers; Innovation – in supervision and management; Leading – creating cultures where people feel valued and belong.
FULL PROGRAMME
Opening keynote: Sam Jardine, partner Fieldfisher and LawCare champion talks about steps we can take as a legal community to improve the culture in law.
Panel discussion: Drivers for Cultural Change
Expert panel discussion exploring the drivers for culture change from a regulatory, risk, insurance and practice perspective featuring Juliet Oliver, SRA General Counsel, Naeema Sajid solicitor, founder of Diversity+ and co-founder of The Scottish Ethnic Minorities Lawyers Association, Paul Smith, Senior Risk Management Consultant at Travelers and Eugene Farrell MBPsS, Mental Health Consultancy Lead for AXA Health and a trustee of The Solicitors' Charity.
Innovation workshop: Supervision
Practical session exploring a supervision model for family lawyers including a live demonstration of supervision led by Gillian Bishop, Consultant at Family Law in Partnership and psychotherapist Chris Mills.
Panel discussion: Reversing the great resignation
Hear from junior lawyer groups across the UK about their needs and practical tips for supporting and nurturing the transition into practice.
Leadership workshop with Dan Kayne: founder of the O Shaped Lawyer
Learn more about the O Shaped Lawyer programme which places people and human behaviours at the heart of a more modern, progressive legal profession.
Conversation with: US perspectives with Libby Coreno, New York State Bar Association
Innovation workshop - Fit for Law: Working with Others
Practical session with Dr Emma Jones and LawCare's Mary Jackson on our new Fit for Law module Working with Others. How to work with clients, colleagues and other professionals as effectively and supportively as possible.
Leading workshop: What's stopping you from introducing a 4 day week?
Led by Maurece Hutchinson, JMK Solicitors
Starting out workshop: Develop your mindset for transitioning into practice
Led by Matt Verrell, former corporate lawyer now executive coach and LawCare volunteer.
Conversation with: Law Society of England and Wales President I. Stephanie Boyce shares her reflections on building a modern and diverse profession.
Closing Keynote - Values and Purpose with Professor Steven Vaughan, Vice Dean and Professor of Law and Professional Ethics at the Faculty of Laws, University College London
Elizabeth Rimmer, Chief Executive of LawCare, said: "We have used our insights from 25 years of supporting the mental wellbeing of the legal community and the findings of our ground-breaking Life in the Law research to develop a fantastic programme. If you want to improve the culture in law, make your firm, chambers or in house team a great place to work that attracts and retains a diverse range of people, values their mental wellbeing and exceed the expectations of clients then do sign up and join us. We'd like to thank The Solicitors' Charity for their sponsorship of this event."
For more information and to book tickets, which cost £100, visit www.lawcare.org.uk/conference and remember to check if this conference meets CPD requirements in your area of professional practice.
Anyone working in the law including support staff can contact LawCare for free, confidential, emotional support. Call 0800 279 6888, email support@lawcare.org.uk or access online chat at www.lawcare.org.uk . The charity also has a team of peer supporters, people who work in, or have worked in, the legal profession who may have been through difficult times themselves and can offer one-to-one support, friendship and mentoring over 2/3 telephone calls to those who need it.