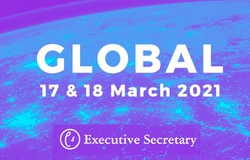 In June 2020 Executive Secretary took their world-renowned ExecSecLIVE event virtual for the first time. A whole new global audience gained access to 2 days of workshops, elite speakers, training and networking unlike any other. And they're back for 2021!
This year's virtual event will be held on 17th and 18th March, and you can be a part of it!
Across the two days, attendees can watch 52 industry experts speak about their careers, offer their guidance and provide insight and training.
Executive Secretary have said:
"We are keen to ensure that you continue to get the training and inspiration that you have come to expect from us.
Our LIVE events offer training to not only improve your work life, but to help you strive for bigger and better things every day.
We pride ourselves on bringing you the best of the best.
Our CEO, Lucy Brazier, speaks all over the world and spends much of her time actively looking for undiscovered superstar talent to educate and inspire you.
We only book speakers and trainers that we have personally seen speak and who give us chills because of their brilliance. We guarantee that you will leave each session with at least one 'ah ha' moment."
Attendees will also be able to access the speaker sessions for two weeks after the event. So, even if you can't see everyone you want to that weekend, you don't have to miss out.
Register your place now and enjoy massive savings.