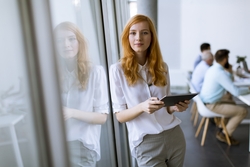 The May edition of DEDICATED - The Legal Secretary Journal is now available online.
Last month, we highlighted the excellent opportunities Legal Secretaries have to advance their careers. This month, we spoke to one of our graduates who has embraced these opportunities first-hand.
Elizabeth Forbes started her career temping as a Legal Secretary in a local firm. She is now a Trainee Paralegal in one of the largest firms in the South East. We connected with Elizabeth to find out about her current role and the steps she took to get where she is now.
If you are working from home, some useful guidance has been provided to help you manage your time effectively. Creating a schedule and having breaks can go a long way in boosting your productivity.
At the beginning of the year, ILSPA Partner, SecsintheCity, asked members of the business support profession to take part in its salary survey. The results are in and they look very positive for the legal sector. Find out what Legal Secretaries and PAs should look forward to in 2023.
In other news, ILSPA is excited to announce that our evening classes are returning to Regent's University in September. After a three-year break due to COVID, we are able to offer Students the opportunity to be taught in person again.