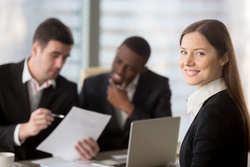 The August edition of DEDICATED - The Legal Secretary Journal is now available to read online.
Our lead article this month takes a look at a day in the life of a Legal Assistant. Legal Assistants, like Legal Secretaries and PAs, are a vital part of a legal support team. This article from Simply Law gives an in-depth view of what their role entails and how they assist fee earners within a law firm. It is always interesting to gain insight into the different roles within the legal support sector and it may be something you would like to progress to in the future.

ILSPA is happy to announce that The PA Show is returning in September 2021. The PA Show is the largest gathering of Executive Support Professionals in the UK, bringing together 1000's of the community under one roof. The event is an ideal chance to enhance your skills and knowledge, grow your network of contacts and source premium global suppliers to support you and your firm. What's more, ILSPA Members can receive 10% off a conference pass. You can find information about the conference, the speakers and how you can apply for a discounted pass, in their article.
There is a helpful piece from Julie Perrine, founder of All About Admin, discussing how to use colour coding for better organisation. We also have an informative article about the introduction of "no-fault" divorce that will be of great interest to our Legal Secretary Students, as well as some guidance from Simply Law about the importance of checking how diversity-friendly a law firm is when applying for a position.
Finally, we are focusing on plastic waste in our eco awareness section this month. A recent investigation performed by Greenpeace discovered that over half our plastic waste is shipped to other countries to be disposed of rather than being recycled. ILSPA believes that companies and individuals should take responsibility for protecting our planet. Please take a moment to read through this important information.