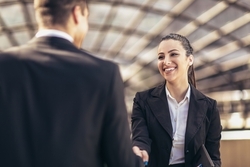 After studying the Legal Secretaries Diploma and gaining your qualification, you will be ready to start looking for work. There are a few steps you should take to ensure that you are successful in securing a job.
As well as creating a high quality CV which is tailored for a Legal Secretary role, you will need to prepare for interviews. It is natural to feel nervous when you are being interviewed for a position you want. You need to make a good impression by coming across as calm, confident and knowledgeable, although nerves can get in the way of this sometimes. We love this article by Simply Law Jobs called '5 Proven Tips to Combat Interview Nerves' which includes some great advice on how to feel more relaxed and to keep your goal in mind.
ILSPA also provides excellent guidance on preparing for interviews as well as helping you understand the key steps to secure employment. You can find this in our Guide to Securing Employment which is one of the many great resources available to you in our Student and Member area.