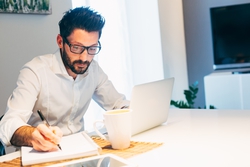 We have written a few posts about how women can excel in the legal industry, but just as importantly we would like to talk about men.
Becoming a Legal Secretary is a great way of getting your foot in the door and working your way up the ladder, however men can be cautious about taking on a job title that is usually associated with women. We would like to reassure you that both men and women can work as Legal Secretaries/Assistants/PAs. In today's world, people should not feel like the odd one out or be discriminated against for their sex, race or age and everyone should be valued for their individual merits.
ILSPA has had a couple of excellent male Administrators who have performed at a very high level. Whilst some men worry about feeling emasculated for taking on such a role, we found that it gave them a lot of confidence to hold such a responsible position.
At the end of last year, Craig Harris won the Social Media PA of the Year Award through Secsinthecity. They said that the judges were inspired by Craig's passion to make a difference, and his creativity, dedication and determination to establish a community that adds real value to the profession.
Many men study ILSPA's Legal Secretaries Diploma course to gain the legal knowledge and skills they need to enter the legal profession. Commonly, we have male law graduates enrolling on our course to acquire the practical skills they don't cover within their law degrees. Whilst our evening class in London is predominantly female, we do have men attending the classes and we would love to see more!