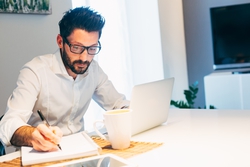 As much of the country moves to remote working due to the COVID-19 pandemic, many experienced professionals and companies are taking time to offer their own advice to people new to working from home.
Here is a list of our top articles and blogs on the topic:
How to Work From Home Successfully During COVID-19 - The Assistant Room
Mental Health Tips For Working From Home - Totally Legal
Working From Home: How to Stay Visible, Connected and Efficient - Rhonda Scharf
Working From Home Tips for Legal Professionals - Totally Legal
Working From Home as an Executive Assistant: Is It Possible? - Secs in the City
Seven Tips For Successful Video Meetings - BBC.co.uk
23 Essential Tips for Working Remotely - inc.com
Working From Home Tips: 31 Great Tips From 31 People - outwittrade.com
Remote Working Tips for Beginners - recamov.com
For those of you with children who are finding it difficult to keep them entertained and busy whilst you work, why not sign up to the LEMON-AID newsletter. This daily newsletter sends you lockdown tips and activities for all the family straight to your inbox.
You will also find a wide range of interesting and relevant ILSPA articles in DEDICATED - The Legal Secretary Journal.