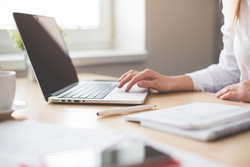 Are you a Student currently enrolled on a course with ILSPA? ILSPA's Legal Secretaries Diploma and Legal Secretary Foundation and Advanced Courses are excellent qualifications that will teach you the legal knowledge and procedures you need to become a competent and successful Legal Secretary.
We would like to highlight some other resources that will complement your studies by giving you access to even more knowledge, learning and support.
ILSPA's Glossary of Legal Terminology
You may have spotted this in the Introduction module of the Legal Secretaries Diploma course material. Single Subject Students may not be aware that they can also access this document in the Student Resources section found at the bottom of our online Student and Member Area home page.
The Legal Glossary is an essential aid for your studies. It allows you to easily look up and understand the correct legal terminology throughout your course and your career. Being comfortable with legal terminology will not only benefit your studies but it will also set you apart as a confident Legal Secretary.
If you have not done so already, we strongly recommend printing the document out and keeping it to hand to refer to.
ILSPA's Exclusive Student and Member Area
You will be familiar with our online Student and Member Area as it is the place where you access your course material. There is, however, a whole range of other resources listed there that will help with both your studies and your future career.
You will find sections dedicated to student resources, legal resources, guidance to secure employment, continual professional development and even exclusive discounts.
ILSPA's CV Help and Guidance to Secure Employment
You receive one year's free Membership as a benefit of studying with ILSPA. This allows you to access the Student and Member Area and also to take advantage of any of the Membership Benefits that we offer.
One of the most popular benefits is our CV Help and Guidance to Secure Employment service. This allows people to email us a copy of their CV for review. They will then receive personalised, tailored feedback and guidance to secure employment from our team.
You do not have to wait to complete your studies to start using this service. If you would like to get a head start on your job search, you can send your CV to us at any time throughout your studies.
For more information, visit the Guidance to Secure Employment section of our Student and Member Area.
Typing.com
Most law firms will require their Legal Secretaries to have a fast and accurate typing speed of at least 50wpm. Typing.com is a free and easy platform that can be signed up for and then accessed as much or as little as required. The site leads you through a programme of exercises that help you improve your typing speed and accuracy.
This is a great resource for Students who feel that their typing speed requires some improvement, or for those who simply want evidence of their current speed. The site provides users with a downloadable certificate that is then updated each time a new milestone is reached.
ILSPA's Social Media Platforms
ILSPA actively posts on our social media platforms. We share everything from learning resources to news and events to legal updates. We regularly post about useful articles and information specifically aimed at our Students.
You can find us on Facebook, LinkedIn and Twitter.
DEDICATED – ILSPA's Legal Secretary Journal
If you are reading this article, you will be aware that every month ILSPA publishes articles that are informative and of benefit to Legal Secretaries and PAs in DEDICATED – ILSPA's Legal Secretary Journal. What you may not realise is that you have access to all the articles from previous months and years as well. DEDICATED – ILSPA's Legal Secretary Journal was first published in 2007, which means that the archive has 14 years' worth of articles which can help you in your career. That is quite a collection!
The journal covers a range of topics including professional development, career advice, legal updates, student resources and more – which means that if you are looking for information or advice, then you are certain to find something useful in the journal.
You can search specific subjects, or alternatively, you can look through different areas by selecting from the menu on the left-hand side.
Please do not hesitate to contact us if you have any questions. We wish you all the best with your studies.
Article sourced from ILSPA's Legal Secretary Journal