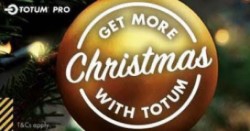 Fantastic news for all new ILSPA Students. There is currently 20% off all new Memberships to TOTUM PRO (NUS).
Until the 6th January 2020, TOTUM PRO is available for only £11.99 for one year (usually £14.99), £19.99 for two years (usually £24.99), or £27.99 for three years (usually £29.97).
Contact ILSPA for your unique voucher code to enable TOTUM to verify you as an ILSPA student, and then head to the TOTUM website to sign up today!