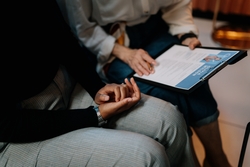 One of the benefits of being a part of ILSPA is that you can receive help with your CV when looking for work. Your CV provides the first impression you make on a recruiter, so it must be of a high standard and tailored for a Legal Secretary position. Your Legal Secretary knowledge and skills should be highlighted within your profile as well as a section called 'Key Skills'. If you have gained a Legal Secretary qualification, it is also beneficial to outline the syllabus so that recruiters can see exactly what you have learnt.
Sometimes people apply for vacancies with generic CVs and wonder why they don't hear anything back. If a recruiter cannot see what your Legal Secretary capabilities are, then they will not offer you an interview.
We want you to succeed in gaining employment. If you would like to receive help with your CV, we are happy to assist. Please send a copy of your CV to cvs@institutelegalsecretaries.com and we will take it from there. It will make all the difference in you being offered interviews!