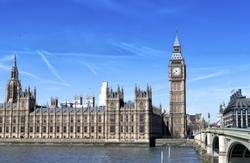 Today is World Sight Day which is an event recognised by people throughout the world to raise awareness of blind and visually impaired people.
The Royal National Institute of Blind People are also celebrating their 150th birthday and say that there has been significant changes for blind and partially blind people over the past 150 years, which they have helped to achieve. In 1870, braille was published to help people to read and in 1935 RNIB recorded the first ever audiobooks. RNIB have also worked with the Bank of England to create notes and coins that can be more easily recognised and they also work with big tech companies to create more accessibility and independence for people.
The Houses of Parliament offer tactile tours for blind and partially sighted people, who can gain a real sense of the building and its history by chatting to the tour guides and having the opportunity to touch interesting models and objects. To find out more about the tours, please take a look at Parliament's website here. Whether you sighted, blind or visually impaired, the Houses of Parliament is a great place to visit and see where our laws are made.