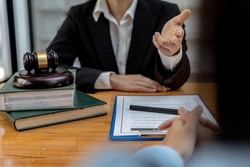 Career prospects for Legal Secretaries are excellent due to the fact that they gain valuable and transferable experience in their roles. Starting your career as a Legal Secretary can be a great way to get your foot in the door of the legal sector and work your way up the ladder. You can become a Paralegal, Legal Executive or even a Solicitor with some additional training.
ILSPA's Legal Secretaries Diploma course is popular with law graduates as it enables them to gain the vital practical skills they need to work in a legal environment. Sometimes, budding Lawyers will work as Legal Secretaries whilst studying at university, like Employment Lawyer, Sarah Russell who recently appeared in the Law Society Gazette. Sarah's interest in working in law began when the mother of a friend said that she should become a Lawyer. She decided to get a position as a Legal Secretary whilst she was studying at university and found it to be very interesting. Her career journey soon progressed with her transferring to a Paralegal role, then onto becoming a Solicitor after completing a Graduate Diploma in Law, a Masters in Law and the Bar Vocational course.
You can find similar stories to Sarah's in ILSPA's Legal Secretary Journal. We will be featuring an article about the career prospects for Legal Secretaries in our April edition, so keep your eye out for that if you are looking to advance your legal career.