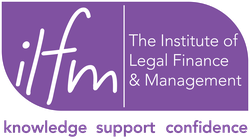 ILSPA recently announced its new partnership with the Institute of Legal Finance and Management (ILFM). As industry peers, we are delighted to recognise and support the valuable work ILFM does for its Members and other legal professionals.
ILFM provides qualifications, training, knowledge, support and information for anyone working in legal accounts, compliance and law firm management. It is dedicated to driving innovation, advancing education and promoting excellence throughout the legal sector. It's training and education programs aim to raise awareness, advocate good business practice and maintain high standards.
Training and continuing professional development are essential for those working in the legal sector, so we wanted to take a moment to let you know about the professional qualifications available through ILFM.
Diploma Level
This is suitable for legal finance professionals who would like to understand more about the role of a legal cashier and advance their career. It also suits those who are new to legal finance. The qualification consists of two parts:
Bookkeeping for Legal Finance Professionals (exemption available)

Legal Finance Compliance & Accounts Rules
Associate Level
Those who have achieved ILFM's Diploma can apply for its Associate qualification, which contains four parts. Candidates need to pass parts 1 and 2 plus part 3 or 4:
Accounting for legal finance professionals
Financial management
Tax for legal finance professionals
Legal practice management
Fellowship Level
This is ILFM's highest qualification and is only available to Associate members. Candidates are required to:
Write a thesis of between 10,000 and 15,000 words on a topic from the ILFM's approved list or request their own topic
Complete a presentation to a panel at the Institute's office demonstrating their knowledge of the topic
ILFM also offers online training in areas such as anti-money laundering, billing within legal practice and VAT for legal accounting.
You can find further information on ILFM, along with its Membership services here.