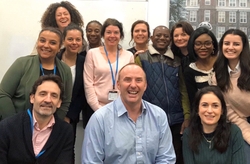 We are delighted to be running our Legal Secretaries Diploma course at Regent's University in London from September 2023. Regent's University is situated in the beautiful setting of Regent's Park. It is a cosmopolitan university and a great place to study.
During the pandemic, ILSPA was unable to hold our evening classes at the university due to the restrictions in place, so we had to adapt. We have been running our classes online over the past three years but it is time to offer in-person tuition again.
The class tutor will be Seamus Ryan. Seamus has been teaching ILSPA's courses for over 10 years at the university. He is much loved by our Students due to his friendly approach to teaching and humorous stories, which bring law to life! Seamus originally qualified as a Solicitor and is an experienced law lecturer, having worked for CILEX and the Law Society.
It will be wonderful to welcome our Students to the university again in September. Offering them a learning environment in the heart of London is one of our top priorities. We will ensure that they have a positive experience and achieve their goals.
Enquiries for our evening classes must be made directly through ILSPA rather than the university.