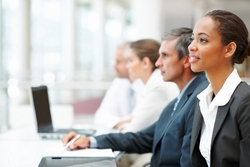 The May edition of our Legal Secretary Journal has been published.
In this month's lead article we speak to Hollie Nixon, one of the newest Legal Secretaries at Clifford Chance LLP. Hollie spoke to us about her transition from a completely non-legal background into the legal secretarial profession. She gives useful advice to people looking to make the change themselves.
Also featured is an announcement from our partner, Secs in the City about their summer networking event. This will be taking place on Wednesday 10 July 2019 in London. You can read about what to expect from this year's event and find out how to sign up for the waiting list.
Other articles include a fantastic piece from international recruitment agency Ambition on how to support a self sufficient boss, a selection of useful MS Word tips and advice on writing the perfect CV profile when looking for work as a Legal Secretary.
Our journal is a fantastic resource of information for trainee and experienced Legal Secretaries. Take a look at this month's articles as well as those we have published previously to find the guidance you need.