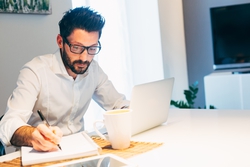 In the fast-paced world of legal professions, staying ahead of the curve is essential for success. For those aspiring to become proficient Legal Secretaries, we offer a comprehensive Legal Secretaries Diploma course, conveniently accessible through distance learning. This Autumn, you can save £100 if you enrol on this course before the end of November.
ILSPA's Legal Secretaries Diploma Course
The Legal Secretaries Diploma course is designed to equip individuals with the essential skills and knowledge needed to excel in the legal support field. What sets this program apart is its flexible and accessible distance learning format, allowing students to study at their own pace without compromising the quality of education. The benefits include:
A Comprehensive Syllabus: The course covers a wide range of topics, including legal terminology, document drafting, communication skills, and understanding the court system. Our comprehensive syllabus ensures that students gain a holistic understanding of the legal environment.
Flexible Learning: ILSPA's distance learning format enables students to balance their studies with other commitments. Whether you're working a full-time job or managing a busy schedule, the flexibility of this program empowers you to pursue your career goals without disruption.
Practical Insights: The course goes beyond theoretical knowledge, providing practical insights into the day-to-day responsibilities of a Legal Secretary. This hands-on approach ensures that graduates are well-prepared to navigate real-world challenges in a legal office setting.
Professional Recognition: ILSPA is a recognised institution within the legal industry, and the Legal Secretaries Diploma is a respected qualification. Graduates can enhance their job prospects and credibility in the field, opening doors to various career opportunities.
Discount Offer
To make this valuable education even more accessible, ILSPA is currently offering a £100 discount to those who enrol for the Legal Secretaries Diploma course by the end of November. This limited-time offer presents a fantastic opportunity for aspiring Legal Secretaries to invest in their future at a more affordable cost. Enrol today and pay £500 rather than £600. Unlock the door to a rewarding career in the legal profession!