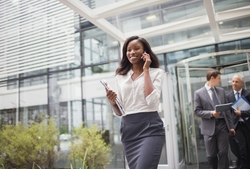 The October edition of DEDICATED - The Legal Secretary Journal is now available to view online.
The PA of the Year Awards 2023 is fast approaching. With a special category for Legal PAs, the awards champion PAs, EAs, and Office Managers, alongside those working in the legal sector. In this month's journal, SecsintheCity interviewed Jamie Ricks - 2022 finalist and Legal PA at Baker McKenzie.
A knowledge of law and legal procedures is an essential part of a Legal Secretary's or PA's skill set but you need other attributes and skills in addition to this. We have taken a look at what it takes to be a good Legal Secretary and how certain skills can develop naturally. For those working as Legal PAs who need some help with diary management, SecsandtheCity has contributed a useful guide.
Computer skills, in particular Microsoft Office skills, are high on the list for Legal Secretaries and PAs. If you are looking to improve your existing Microsoft Office skills or gain some brand-new ones, you can become a Microsoft Office Specialist with Prodigy Learning. ILSPA Members are entitled to an incredible discount, saving more than 50%!