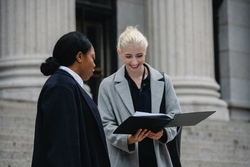 The June edition of DEDICATED - The Legal Secretary Journal is now available to read online.

We have some fantastic articles this month, focusing on important secretarial skills. If you are currently studying a course with ILSPA, our lead article highlights the resources that complement your studies by giving you access to more knowledge and support.

One skill that is essential for Students (and Legal Secretaries for that matter) is good concentration. Our article 'The Art of Concentration' looks at the important internal factors that are often overlooked when trying to establish good habits for concentration.

Another sought-after skill for both trainee and experienced Legal Secretaries is excellent writing abilities. Take a look at our article on legal writing to find tips on how to improve this area of your work.

Finally, ILSPA is very happy to announce that we have once again partnered up with LegalEx. It is making its much-anticipated return as a live event this July. Read their article to find out what this year's event has to offer Legal Secretaries and PAs. You can also book your free tickets by following the link in the article.