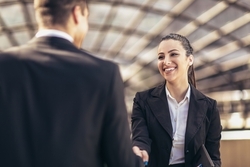 The February edition of ILSPA's Legal Secretary Journal has just been published and this month we have some fantastic career advice and job search articles for Legal Secretaries and PAs.
Simply Law Jobs and Totally Legal work in partnership with us to help our Members with their careers. We recommend reading the advice they have provided on performing a legal job search and benchmarking your salary, depending on what stage you are at in your career.

LegalEx 2020 takes place next month on the 18-19 March in London. It's a very worthwhile event to attend as a new or experienced Legal Secretary. You can network with legal professionals, speak to exhibitors and check out seminars, which will help you to advance your skills in specific areas. For those of you looking for work, you can visit Totally Legal's stand and register with them. For more information, please read our article about the event.

Many thanks to Charlotte O'Brien for speaking to us about how she has progressed after being awarded ILSPA's Legal Secretaries Diploma. She is now working as a Family Legal Secretary for Birketts LLP, which is one of the top 100 UK law firms.