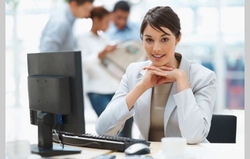 ILSPA's courses provide Students with the legal knowledge and practical skills they need to be competent Legal Secretaries. Our qualifications are recognised by law firms and legal recruiters throughout the UK and overseas. There are many benefits to studying our courses:
1. Whether you want to start a career as a Legal Secretary, you are an experienced Legal Secretary who wants to gain a formal qualification, or you are a law graduate who wants to gain the practical skills required to work in the legal profession, our Legal Secretary courses will provide you with the legal knowledge and skills you need to have a rewarding career in law.
2. You can gain a recognised qualification. Whatever stage you are at in your career, a Legal Secretary qualification will enhance your job prospects. From securing employment to taking a step up the ladder, ILSPA's qualifications will enable you to be a competent Legal Secretary and are widely recognised in the legal industry.
3. As well as learning how to perform Legal Secretary tasks such as producing legal documents and completing legal forms, we will also provide you with a solid understanding of the principles of law behind them. This will give you an excellent foundation in which to springboard your career or enable you to advance your existing expertise.
4. You will receive support throughout your studies and beyond. Not only will we help you with your coursework to ensure that you achieve your qualification, but we will also provide you with guidance on the next stage of your journey. ILSPA's team is dedicated to your career every step of the way and you can contact us at any time for expert advice.
5. You will have access to a wealth of valuable online resources in our Student and Member area. This includes a Glossary of Legal Terminology, study advice, Students' experiences and how to apply for a TOTUM Student discount card. If you're looking for work, you find our Guide to Securing Employment, a CV Guide and career advice.
6. Depending on the subject areas you study, you will be able to advance your word processing skills through your assessments. However, if you want to gain Microsoft Office Certification, you can get a 50% discount on Word, Excel, Outlook and PowerPoint courses through out partner, Prodigy Learning.
For further information, take a look at our course page.