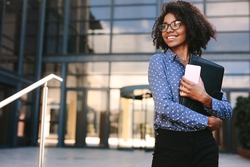 DEDICATED - The Legal Secretary Journal March Edition is now available to view online.
Even though ILSPA is the professional body for Legal Secretaries and PAs, our Membership encompasses various other legal support roles. This month you can learn about the role of the Legal Assistant. Alia Choudhury is a Legal Assistant at Keller Lenkner in London, and talked to our partner, Simply Law, about her responsibilities there.
This month's edition of our journal includes part two of our professional competence series by ILSPA's tutor, Seamus Ryan, and a detailed explanation of how to build a business case for training requests from admin extraordinaire, Julie Perrine. Julie has also provided advice about three strategic things you can do to effectively organise your desk space. For those currently studying ILSPA's Legal Secretaries Diploma, we spoke to our Course Assessor, Maria Richards, about the most common mistakes Students make when completing their coursework. Make sure that you read this before submitting your portfolio as it could make a difference to your final result.
Finally, we would like to encourage you to take part in the Totally Legal 2022 Salary Survey. This is an opportunity to have your say on the legal profession and express how you have personally been affected over the past year. All feedback is confidential, and your participation will greatly contribute towards building a comprehensive understanding of the sector.