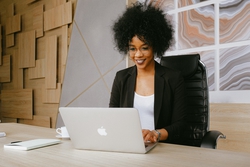 DEDICATED - The Legal Secretary Journal January Edition is now available to view online.
ILSPA would like to wish you a very happy New Year. We hope you enjoyed the festive period and you are looking forward to developing your career in 2022. This month, we have some great articles that have been chosen to help you start the year in the best possible way.

You may be thinking about your resolutions and goals for 2022. To assist you in setting some of them, Julie Perrine from All Things Admin discusses the importance of looking at last year's successes when planning this year's goals. We have also published an article on eco-friendly resolutions that will enable you to create some positive new habits.
As well as creating goals, January is often a time where we plan to make savings. If you are a Student, take a look at the new TOTUM Pro offers that are now available to you. Or perhaps 2022 is the year you hope to find a new job? If so, Simply Law's interview with Beata Rebalska will provide you with valuable insights. Beata talks about the unconventional experience that helped her secure a role with international law firm, Clyde & Co.
Finally, Secs in the City has announced the winners of the PA of the Year Awards. We are delighted to say that 2021 was a fantastic year for the legal sector with Legal PAs taking home not one but two of the four top accolades.